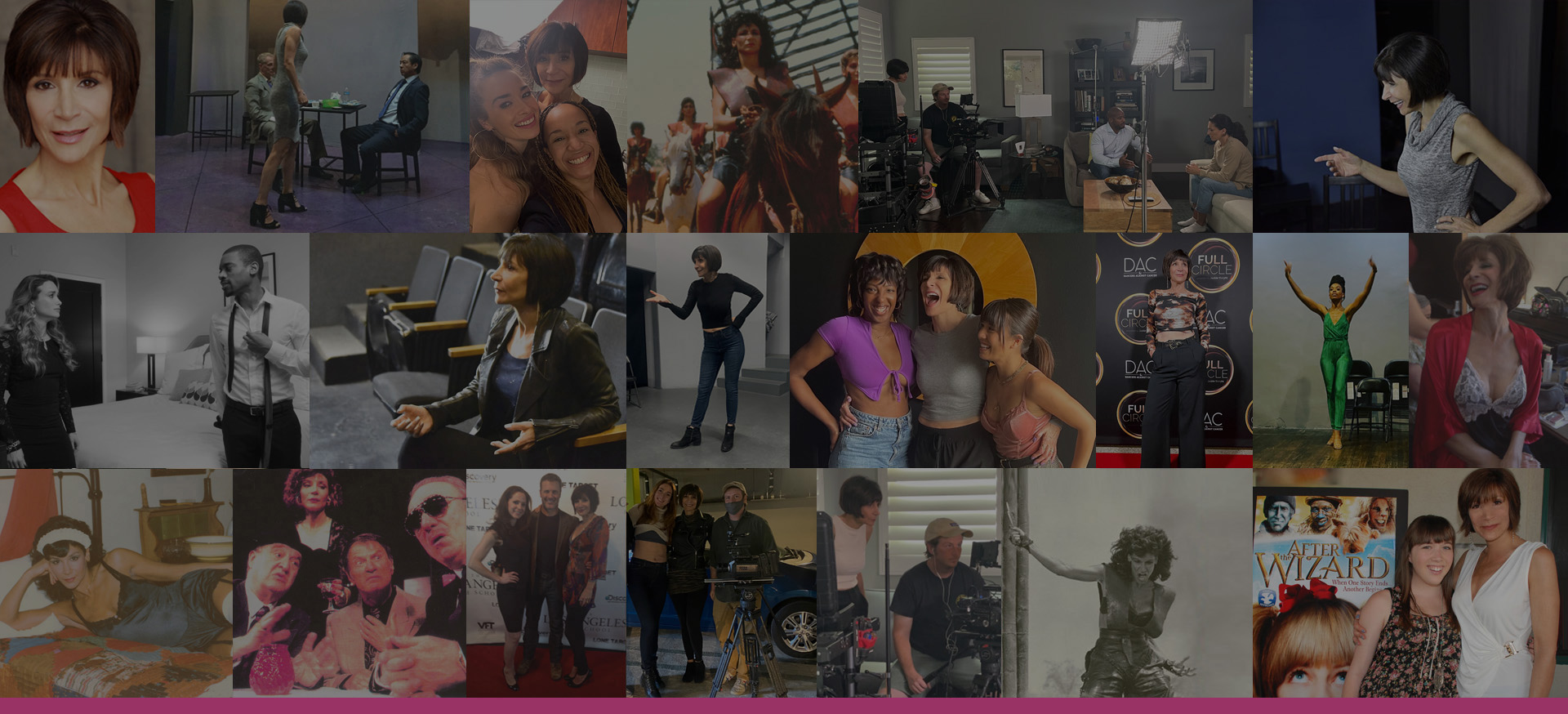 The Susan Giosa Acting Workshop is about the personal, individual development of each artist.
The goal is for you to learn to become master of your own acting technique.
Philosophy
The Susan Giosa Acting Workshop is about the personal, individual development of each artist. The goal is to understand how you, as a unique person and actor, work and eventually become master of your own acting technique.
A Personal Message from Susan
I have been teaching acting for almost 20 years, in Santa Monica, Los Angeles and New York City. Many actors come to me understanding character, objectives, intentions but their work often lacks emotional life. An actor must be willing to reveal himself through character. I believe the ability to tap into and use your full emotional instrument on demand is essential for achieving truthful and compelling work. Unlike many other acting studios I believe a warm-up is essential to rid the body of defenses and I teach a unique warm-up that removes your fears and inhibitions and releases your full creative potential. My student's ability to connect easily and quickly to their deepest emotional core is the result of this specific warm-up technique.

My goal is to teach each student to be a master of his or her own craft. My acting technique has been shaped by working intensely with acclaimed acting teacher, Larry Moss, my graduate studies at RADA (the Royal Academy of Dramatic Arts), and honed by my experiences as a working actress for over thirty years. Students often study years with the same teacher and never develop professional careers. They become too comfortable and stagnate in the safety of the classroom. Every student needs individual attention in order to fulfill his or her full potential. I not only teach the art of acting but I also guide my actors towards thriving and productive careers in the truly competitive world of show business.


Welcome. I look forward to working with you -- Susan Giosa
Susan's Biography
Susan Giosa was born in Connecticut on November 23, 1963 but was raised in New York since the age of 2. Her love for acting and the craft started at a very young age. Her mother was an actress who studied at The Actor's Studio in New York with acclaimed acting teacher Lee Strasberg. Interested in all the arts Susan trained as a classical musician starting at the age of eight. She entered college majoring in music but soon realized acting and the theatre was her first love. Susan graduated Magna Cum Laude from Queens College, City University of New York with a degree in Drama/ Theater and a minor in Dance.
Ms. Giosa continued her education and received a Masters Degree in Drama-Theatre from the same university. Much of her graduate work was done in England at the prestigious acting schools in London, RADA (Royal Academy of Dramatic Arts) and LAMDA (the London Academy of Music and Dramatic Arts). While there, she had the honor of performing at the world famous Edinburgh International Festival. Her graduate advisor was the late Bertram Joseph, a leading expert on William Shakespeare and his works. Her thesis, "Maureen Stapleton, The Life of an Actress", was written from personal interviews she conducted with the extraordinary stage and film actress herself. Susan also spent time interviewing Eli Wallach, Ms. Stapleton's close friend and an accomplished actor in his own right, and Sam Cohn, Maureen's theatrical agent at ICM.
Upon completing her thesis, Susan, was privileged to study at the Warren Robertson Actor's Workshop in New York City with now renowned acting teacher and coach, Larry Moss. Moving to Los Angeles with her husband, comedian Glenn Hirsch, Susan, was thrilled that Larry Moss relocated to Santa Monica around the same time. As she continued to study with her mentor her professional career began to "take off".
One month after moving to Los Angeles she was cast as Emilia the Maid in "Tamara" which became Los Angeles' longest running play, and Ms. Giosa won both the LA Drama Critic's Award and the Drama-Logue Award for her performance. This began her journey toward a diversified and rewarding career. Her first television credit was St. Elsewhere, and she continued to work for the Steven Bochco Company on many of their other shows including Hill Street Blues, LA Law and NYPD Blue.
Susan's first love remains the stage and she particularly enjoys originating roles. She had the pleasure of working with the Tony Award winning director, Jack O'Brien, when she created the role of Angie in the comedy "Breaking Legs" by Tom Dulack at the Old Globe Theatre. She won the San Diego Theatre Critics Award and went on to play Angie at the Berkshire Theatre Festival and finally in New York City opposite Vincent Gardinia and Philip Bosco under the direction of the Tony Award winning director, John Tillinger. She was nominated for the Outer Circle Critics Award for Outstanding Debut of an Actress in a Comedy in 1993.
Susan's other numerous stage credits include starring as "Bella" opposite Mercedes McCambridge, in the First National Tour of Neil Simon's Pulitzer Prize winning play "Lost in Yonkers" and with Burt Young in "View from the Bridge" for which she won a Drama-Logue Award. Other credits include performing at the Ensemble Studio Theatre (member for three years), and for both the Italian-American and Spanish-American theatres in NYC where her leading roles ranged from Joan in "Sexual Perversity in Chicago" to original pieces, "the Mud Club", written by Jane Anderson to classical theatre, Cleopatra in "Anthony and Cleopatra" and the female lead in Pirandello's "Cece". She starred in the West Coast premiere of "The Sweepers" at the ICT, International City Theatre, at the Long Beach Performing Art Center. The production received rave reviews and the LA Times Critic's Choice. Ms. Giosa was awarded Best Actress in a Drama by stageLA.com for her role of Bella. She then originated 4 different characters in the new comedy, Stated Income, at the Pan Andreas theater in LA, written by playwright, Hugh Gross. In 2013 Susan appeared in the World Premiere of the new play, My Mother's Keeper/ A Memory Play, written by Jane Press, at the Electric Lodge Theater in Venice. She played Della Press, based on the real life of theater actress, Thelma Colodny, and received rave reviews.

Susan has appeared in over 30 television shows and films. Others include:
Beverly Hills 90210, Cold Case, Reasonable Doubts, Equal Justice, and recurring roles on the series Head of the Class, Paper Dolls and Baby Talk, and several appearances on NYPD Blue. Pilots include "Married to the Mob" and "Kelley, Kelley" with Shelley Long. Susan also had the pleasure of working with Joanne Woodward, in the Emmy Award winning TV movie "Do You Remember Love?". Film credits include "True Friends" which aired on HBO, "White Palace", "The First Power", "Once in a Blue Moon" (Showtime), and a starring role in the Sci-fi film "America 3000". Susan filmed the role of Ms. Thompson in the feature film, After the Wizard, which was released by 2012. Available on Amazon and Redbox it won the International Family Film Critic's Award. Susan recently completed filming a supporting role, Sandy Rothman, in the new comedy feature Tell Me I Love You which will be released in 2017.
The versatile actress is also a professional dancer and her first film credit was Saturday Night Fever. While still in school she auditioned for choreographer, Lester Wilson, and spent two months dancing to the Bee Gee's music alongside John Travolta. She danced a solo as the "Mother" in Ray Bradbury's "Frost and Fire", a short story adapted for the stage by choreographer Zina Bethune. Recent TV dance credits include a National Dodge commercial with Will Ferrell, and the TV series, Glow, Life in Pieces, Switched at Birth, and Major Crimes. Susan writes with her husband, Glenn Hirsch, and they've had series in development at HBO and Showtime. They produced "Comedy Club Superstars", a special for CBS that starred Jerry Seinfeld, Paul Reizer and Tim Allen.

Susan Giosa is presently working on writing her first acting book, Freeing Your Emotional Core, which includes her unique warm-up, emotional exercises, script analysis and approach to acting.
In 1995, Susan, gave birth to her daughter, Zoe Nicole. She chose to travel less in her career in order to spend time being an at home mother. In 1999, she began to teach acting and discovered a new passion in her life. Now she manages to balance a professional acting career, teaching career and family life. She believes living life fully makes one a better actor and tries to set an example for her students. A native New Yorker, Ms. Giosa, remains bi-coastal. Susan Giosa's endless passion for all aspects of her life inspires her students to become not only working actors, but to have fulfilling lives as healthy artists.


Susan's Demo Reel