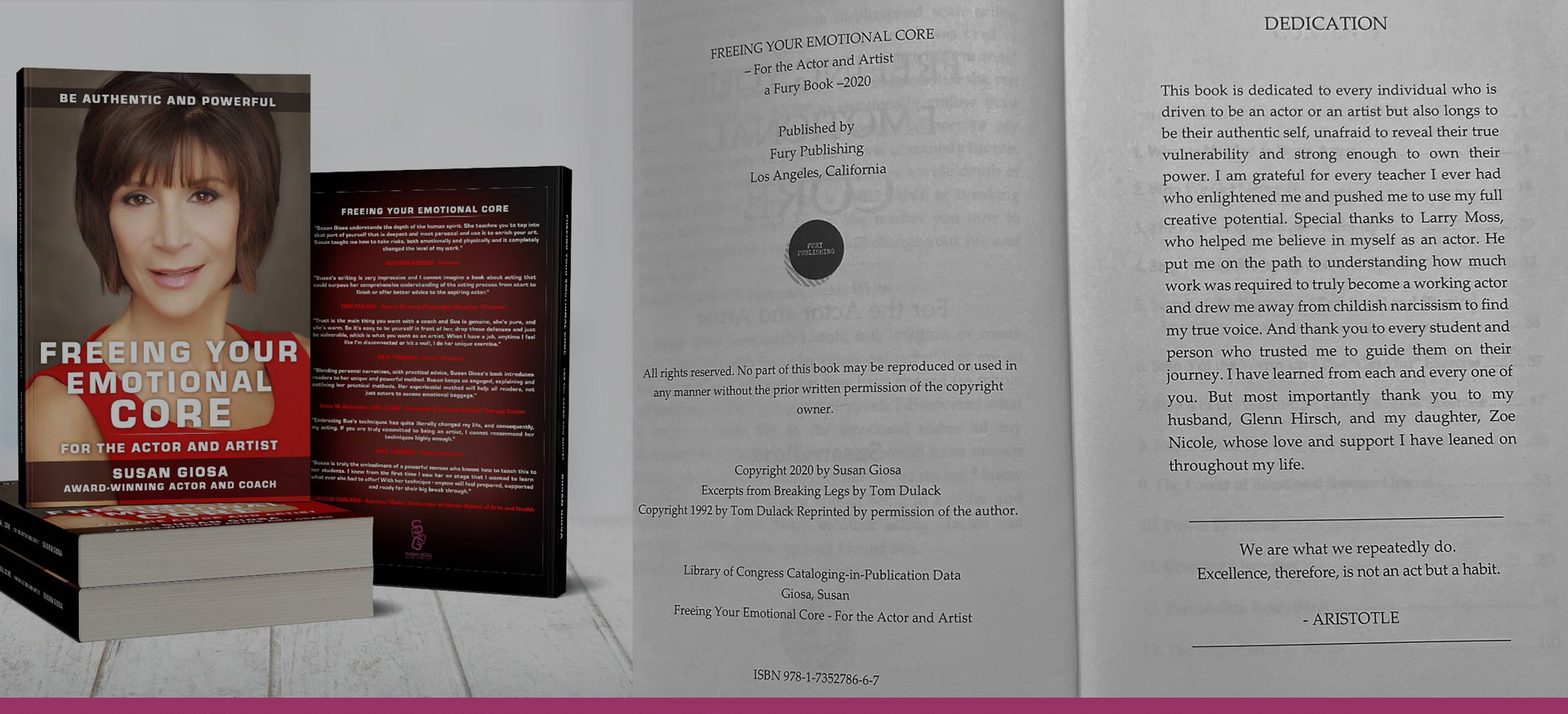 FREEING YOUR EMOTIONAL CORE
For the Actor and Artist




Award-winning actress and coach, Susan Giosa, details her unique and powerful technique that allows the actor and the performer to quickly connect to their emotional core and help rid them of the fear of judgement. Blending personal narratives with her comprehensive understanding of the acting process, she offers vital strategies and crucial advice to the aspiring and professional actor. Her experiential method will help not only actors and performers but all artists and readers to access emotional baggage and guide them toward not only giving authentic and powerful performances but living an authentic and powerful life.
Rave Reviews for Susan's Book
"Susan's writing is very impressive and I cannot imagine a book about acting that could surpass her comprehensive understanding of the acting process from start to finish or offer better advice to the aspiring actor."
TOM DULACK - Award-Winning Playwright/Novelist /Director

"Blending personal narratives, with practical advice, Susan Giosa's book introduces readers to her unique and powerful method. Susan keeps us engaged, explaining and outlining her practical methods. Her experiential method will help all readers, not just actors to access emotional baggage."
SILVIA M. DUTCHEVICI MA, LCSW - President & Founder Critical Therapy Center, NYC

"Susan is truly the embodiment of a powerful woman who knows how to teach this to her students. I knew from the first time I saw her on stage that I wanted to learn whatever she had to offer! With her technique - anyone will feel prepared, supported and ready for their big breakthrough."
CAECILIE CARLSEN - Actress/Model/Co-founder of Nordic School of Arts and Health

"Every art that I practice—as an actor, a writer, a public speaker, a translator, a PhD who must navigate the politics of academia, a life partner, and a mother of three small children—has benefited enormously from my work with Sue. Itʹs a privilege to have her as my mentor and guide. Sue's book will teach you specific techniques that will become part of your artist's toolkit for how to connect with your emotional core and use it to sculpt your work as an actor, artist, and communicator whose mission is to connect with others."
DR. MAGDALENA EDWARDS (Writer, Actor, PhD Comparative Literature)

"Susan Giosa understands the depth of the human spirit. She teaches you to tap into that part of yourself that is deepest and most personal and use it to enrich your art. Susan taught me how to take risks, both emotionally and physically and it completely changed the level of my work."
AUTUMN REESER - Actress

"Trust is the main thing you want with a coach and Sue is genuine, she's pure, and she's warm. So it's easy to be yourself in front of her, drop those defenses and just be vulnerable, which is what you want as an artist. When I have a job, anytime I feel like I'm disconnected or hit a wall, I do her unique exercise."
NICK TARABAY - Actor/Producer

"Embracing Sue's techniques has quite literally changed my life, and consequently, my acting. If you are truly committed to being an artist, I cannot recommend her techniques highly enough."
JOEL LAMBERT - Actor/Producer



About the Author

A professional actress for over thirty years, Susan Giosa is an award-winning stage actress with over twenty-five film and TV credits. She holds a Master Degree of Arts in Drama/Theater with a minor in Dance from Queens College, a New York City university. Much of her graduate work was done at the Royal Academy of Dramatic Arts in London, England. Susan also trained extensively for many years with acclaimed acting teacher and coach, Larry Moss. She's headed the Susan Giosa Acting Workshop In Los Angeles and Santa Monica in California for over twenty years.

Susan originally developed her unique emotional technique to help handle her OCD (Obsessive Compulsive Disorder) and panic attacks at auditions and during performances. It developed into a powerful emotional technique that quickly connects the actor and performer to their emotional core and rid them of the fear of judgment. Her methods have not only helped actors and performers but all artists, including writers, painters and directors. In addition, she has coached and worked one-on-one with CEOs and patients from the Critical Therapy Center in New York City. Bicoastal, Susan teaches classes and seminars in both Los Angeles and New York. She also teaches and coaches internationally online, working with students and individuals from England, Australia, India, Denmark and Japan.
Buy Now